Isolated PSoC3/4/5LP Programmer/Debugger

programmer / debugger for MCU
of Cypress

"PSoC3",

"PSoC4" and "PSoC5LP"
.
Outline
Rev.6A1.0A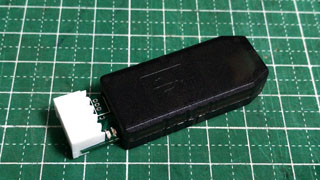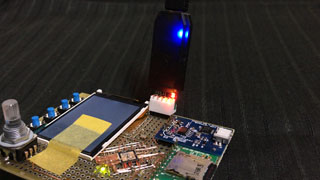 Application example

Features
1. USB Isolation

  A digital isolator with a withstand voltage of 2.5 kV is mounted between the PC and the debug target.
 Protect PC from accident during debug and prevents malfunction due to unintentional current flow into the debug target.
2. Small size
All functions are contained in a 52 x 13 mm housing.

3. USB connector
  rugged microUSB connector is adopted.
3.
SWD interface
The connection to the debug target (PSoC) supports SWD (5 pin).
Program and debugging is possible with PSoC's minimal consumption of precious I/O resources.
4. I2C interface

  It provides I2C port for communication with Capsense and other devices.
The communication rate can be selected from 1 MHz / 400 kHz / 100 kHz / 50 kHz.
(Voltage level: 1.8 kΩ pulled up to the target power supply pin (VTARG).)
Connectors : molex Co. 3pin connector
530470310
has adopted.
5
. LED
  Local Power supply indicator-LED(green),USB connection(green) and target connection and status LED (red) showing operation status are equipped.
6. Target-delivered VTARG
  VTARG is supplied from the target.
Hardware spec
1

. Hardware
  Cypress KitProg1 compatible
KitProg User Guide

2
. Target power supply voltage range
  3.3V / 5.0V±10%
3. Size
  52mm x 13mm x 9.5mm
4. Lead-free
The solder used for component mounting is a Sn-Ag-Cu based lead-free solder.
firmware
1. Driver
  It is included in PSoC Creator. Download the PSoC Creator
here.2. Firmware update
  It is possible to update to the latest version from Cypress Update Manager.
Bundled items
1. Product
2. Description link card

Public data

・
Product appearance, pin assignment
・
Circuit diagram